Andrew Lester, 84, said he shot Ralph Yarl, 16, when he came to his door because he was frightened. He thought someone was breaking into his home. Lester said he was "scared to death" by Yarl's size.
Someone should probably check Lester for dementia.
Yarl went to the house by mistake to pick up his brothers, and Lester shot him in front of the home through his glass door.
Fortunately, the boy, who was shot twice, will survive.
Lester is charged with felony assault and armed criminal action. He is out on bond.
"The warning signs were there. I wasn't shocked when I heard the news," Ludwig told CNN on Thursday. "I believe he held – holds – racist tendencies and beliefs."
Mr. Lester's grandson Klint Ludwig told CNN that "myself and my family stand with Ralph Yarl and seeking justice."
"This is a horrible tragedy; it never should have happened," he said.
Mr. Ludwig also revealed details about his grandfather's "racist comments" and interest in "QAnon-level conspiracy theories" before the 13 April shooting.
Ludwig's older brother, Daniel, reportedly disputed the notion that race played a role when their grandfather, 84-year-old Andrew Lester, shot 16-year-old Ralph Yarl in front of his door on April 13.
KLINT'S NUTS
CNN didn't bother to interview Daniel, just the radical Klint.
CNN left out something meaningful in their viral story -the grandson sounds like a lunatic. He loves Antifa, BLM, and Satan but hates the police.  Antifa and BLM are violent communist groups. What a gem!
CNN's a pathetic joke.
This is who they think is worth interviewing:
The weird Satanist radical grandson said his Grandpa was into "'weird, random, racist things." You can take that to the bank!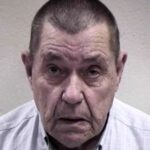 Maybe the media should stop reporting incomplete garbage and let the courts sort it out. On the other hand, they could take the time to get the whole story, but they just want to feed a certain narrative.
Democrats are using this terrible situation to bash Stand Your Ground laws. Meanwhile, Lester is charged with grave crimes that could send him to prison for the rest of his life. We fail to see how he's getting away with anything.
The grandson is racist. He stereotypes all older, white, Christian males.
It gets better — this guy Klint Ludwig was sued in the Kansas City area for defamation by a co-worker who complained that Ludwig posted Antifa, BLM, "Hail Satan," and "All Cops Are Bastards" stickers at work. https://t.co/PfjMhylqIE pic.twitter.com/ICSOhDIsk5

— Chuck Ross (@ChuckRossDC) April 20, 2023