Octogenarian Mitch froze for about 30 seconds during a public appearance, then answered a couple of questions and was finally escorted away. This freezing issue also happened about a month ago.
We are a national embarrassment with all these mentally impaired people in high office, and they had the gall to talk about Donald Trump, who has no such issues.
McConnell, 81, was responding to questions from reporters after an event with the Northern Kentucky Chamber of Commerce in Covington when he froze up, staring into space and not responding to reporters and others nearby.
After being approached by a second person, McConnell resumed speaking but needed reporters' questions repeated to him and only answered two more questions. The longest-serving Senate party leader in history, McConnell's voice was shaky and quiet.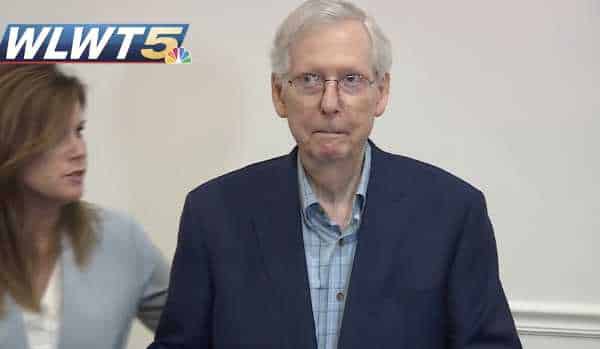 He said Kentucky Attorney General Daniel Cameron, a Republican, was "far and away the best candidate" for governor and declined to say whether he would support former President Donald Trump as the Republican nominee for president before he was ushered away with a staffer.
And you can take that endorsement to the bank. He's really one to give endorsements.
His staff claimed he was momentarily lightheaded when he was clearly in lala land.
He fell earlier this year and was out of work for a while. Did he have a stroke? This is more than an age issue.
🚨 BREAKING: Senator Mitch McConnell freezes again while speaking at a press conference

— Benny Johnson (@bennyjohnson) August 30, 2023