Donald Trump let loose on Truth Social after Rihanna's halftime show. As expected, the media blew his comments up, and he's being ripped for it.
Rihanna once painted "F… Trump" on a Chevy, so she can hopefully take what she dishes out. She was regaled for that.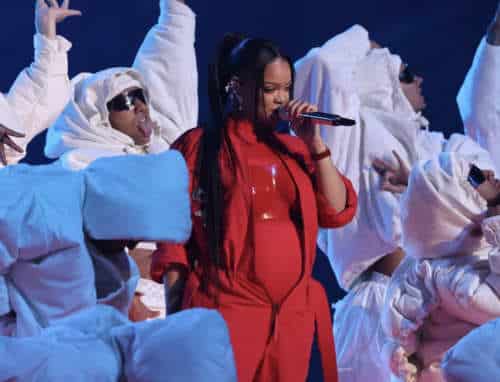 Rep. Jackson didn't think she should be doing the show, giving her vulgarities and anti-Americanism.
Rihanna spray painted "F*** Donald Trump" on a car at the Cadillac Ranch in Amarillo. She's made a career of spewing degenerate filth while badmouthing America every chance she gets. Why is the NFL showcasing this crap? Rihanna SHOULD NOT be the halftime performer!!

— Ronny Jackson (@RonnyJacksonTX) February 9, 2023
During what used to be a family show, Rihanna sang "Rude Boy" while crotch grabbing as slews of dancers in odd costumes gyrated. If you think the following lyrics to that song shouldn't appear here, consider that your children are singing them to her songs.
Some of the lyrics from "Rude Boy"
Come here, rude boy, boy, can you get it up?
Come here, rude boy, boy, is you big enough?
Take it, take it (Yeah), baby, baby (Yeah)
…
Tonight, I'ma give it to ya harder
Tonight, I'ma turn ya body out
…
I like the way you touch me there
I like the way you pull my hair
Babe, if I don't feel it, I ain't faking, no, no (Oh no)
I like when you tell me 'kiss you there'
I like when you tell me 'move it there'
So giddy-up, time to get it up
You say you a rude boy, show me what you got now
Come here right now…
Many of her songs promote bad behavior in youth.
Rihanna, who is from Barbados, has been highly critical of the NFL and is one with Colin Kaepernick in anti-Americanism. She didn't think much of the NFL, either.
In a 2019 expression of solidarity with former San Francisco 49ers quarterback Colin Kaepernick, she told Vogue she had no interest in the Super Bowl gig.
"I couldn't dare do that," she said. "For what? Who gains from that? Not my people. I just couldn't be a sell out. … There's things within that organization that I do not agree with at all, and I was not about to go and be of service to them in any way."
It seems like the NFL has been very good to black players and executives. Rihanna says our institutions are systemically racist.
Her performance received some mixed reviews.