Judge Amy Totenberg has issued a decision agreeing that there is "sufficient reason to believe that the electronic voting machines used by the State of Georgia have substantial flaws."
Judge Nina Totenberg, an Obama appointee, presides over the court battle between Georgia Secretary of State Brad Raffensperger and plaintiffs opposed to the state's touchscreen voting system.
The complaints concern the 2020 elections in Georgia. Judge Totenberg said there is no implication that the complainants are election deniers or that an election was hacked.
Through the lawsuit, the plaintiffs revealed evidence of an election breach in Coffee County in January 2021, when a nonprofit organization led by Sidney Powell, a lawyer who supported then-President Donald Trump's claims that the 2020 election had been stolen, paid computer analysts to copy voting software, ballot images, and other election data.
"To be clear from the start," Totenberg said, "the court does not have the legal authority to grant the broadest relief that the Plaintiffs request without infringing on the state's legislative vested power to enact legislation." The court doesn't have the power to legislate paper ballots.
CYBERSECURITY DEFICIENCIES
She found there may be "cybersecurity deficiencies that unconstitutionally burden Plaintiffs' First and Fourteenth Amendment rights and capacity to case effective votes that are accurately counted."
Totenberg scheduled a bench trial for January 9, 2024, which entails the absence of a jury, but suggested a compromise would be beneficial and is still possible.
"The Court cannot wave a magic wand in this case to address the varied challenges to our democracy and election system in recent years, including those presented in this case," she wrote. "But reasonable, timely discussion and compromise in this case, coupled with prompt, informed legislative action, might certainly make a difference that benefits the parties and the public."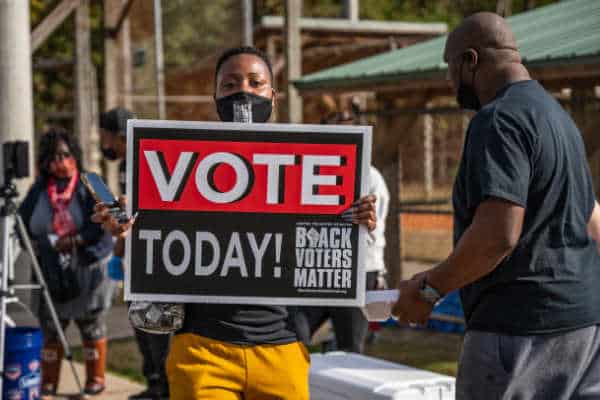 An expert for the plaintiffs, University of Michigan computer science professor Alex Halderman, identified vulnerabilities in the voting system's software. He wrote a report that said votes could be altered by someone who gained access to voting equipment, such as a voter in a polling place or a corrupt election official.
Dr. Halderman identifies seven major vulnerabilities:
Attackers can alter the QR codes on printed ballots to modify voters' selections
Anyone with brief physical access to the BMD machines can install malware onto the machines
Attackers can forge or manipulate the smart cards that a BMD uses to authenticate technicians, poll workers, and voters, which could then be used by anyone with physical access to the machines to install malware onto the BMDs (id.);
Attackers can execute arbitrary code with supervisory privileges and then exploit it to spread malware to all BMDs across a county or state (id.);
Attackers can alter the BMD's audit logs (id.);
Attackers with brief access to a single BMD or a single Poll Worker Card and PIN can obtain the county-wide cryptographic keys, which are used for authentication and to protect election results on scanner memory cards (id.); and
A dishonest election worker with just brief access to the ICP scanner's memory card could determine how individual voters voted (id.).
He noted that bad actors, both foreign and domestic, could recruit election workers to corrupt the election.
The U.S. Cybersecurity and Infrastructure Security Agency confirmed the vulnerabilities last year but found no evidence that weaknesses have ever been exploited in an election.
The U.S. Cybersecurity and Infrastructure Security Agency (CISA) — which oversees the nation's critical infrastructure, including computerized voting and tabulation systems — was allowed to review Halderman's sealed report last year. They were so alarmed they issued an advisory citing "vulnerabilities…that should be mitigated as soon as possible."
A Dominion-funded report by the MITRE National Election Security Lab, an organization that assessed Halderman's findings, said hacks are "operationally infeasible" and easily defeated by routine election security procedures.
Obama Judge Totenberg came up with a finding against the election machines, and it is tied to the racketeering case against Donald Trump and 19 others in Georgia.