Which executive agency do you trust? Under Biden, their image has gone down due to politiciization.
I know someone who was an IRS investigator. Before she retired, she was reading a Glenn Beck Christmas book and left it on her desk. That was followed by gossip and a dressdown from the top union boss. She said she knew she had to hide it and forgot. Some people approached her secretly and told her they supported Beck, but even then, when Beck wrote The Christmas Sweater in 2008, a Beck Christmas book was taboo.
Unionizing government workers was a terrible idea.
The corruption and bullying in our government agencies have been a long time in the making. We know the DOJ/FBI, CIA, and DOE are compromised. Are any trustworthy?
ZeroHedge reports that for 13 months in a row, the Department of Labor found payrolls "exceeded expectations." That's good. They're doing a bang-up job, then?
Not realy, Soon after, the numbers will be revised, and we will find they are not better than expected, as you can see in the chart. We're doing great according to Reuters who know better,  but watch how they go down by July.
Tyler Durden writes:
Ahead of today's jobs report, which we previewed earlier and where median consensus expects a drop in payrolls to 185K (which would be the lowest since 2021) with unemployment rising to 3.6%, many joked that at this point the job report is so rigged and "adjusted" that Biden's Dept of Labor may as well just keep going with fabricated numbers until the 2024 election. After all, one look at the chart below which shows the number of consecutive beats heading into today's print, confirms what a farce the "data" has become: everything in the name of a beat and a favorable press conference soundbite.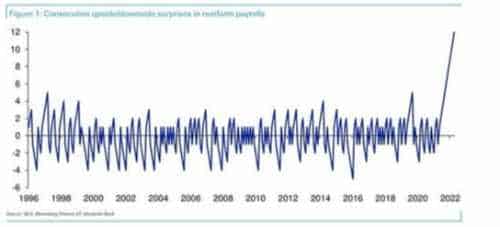 As we speak, Biden is politicizing every executive agency, a practice that went on speed in 2009.
DHS is targeting parents and white male Christians while flooding our borders with anonymous criminals and terrorists.
Let's not forget the corruption in the FDA and CDC. It's too much to go through it all.
Remember Remdesivir?
.@RobertKennedyJr: "Tony Fauci Knew That Remdesivir Would Kill You"

"How does it kill you?" he asked. "Kidney failure, heart failure, and all-organ collapse."

"All the doctors said. You heard it again and again. 'We've never seen a virus that attacks the kidneys.' Because it… pic.twitter.com/jqcN1cHY3k

— The Vigilant Fox 🦊 (@VigilantFox) April 23, 2023
Lockdowns don't work despite assurances from the CDC and FDA and Dr. Fauci and crew, partisan hacks if ever there were ones.
Johns Hopkins says "never again" to [Fauci] lockdowns.
The CDC put COVID vaccines on the childhood schedule knowing children could develop myocarditis and don't need the vaccines. They aren't COVID-19's target population -the elderly are.
The DOE is feeding us transgenderism and unAmerican CRT, along with the 1619 Project lies.
The ATF is putting gun dealers out of business if they make small paperwork errors.
Even our military is being corrupted with WOKE and vaccines.
Arming them all doesn't help their image much.
I might still trust the Marshal's Service. What agency do you trust? Let me know and I'll research it.