"Issue the orders, Sir, I will storm Hell."

~ Revolutionary War slogan
We are at war, and many Americans are blissfully unaware. People worldwide who do not share our values are welcomed, while citizens must pay and shut up. Texas is likely vanquished, and without the state of Texas, Republicans can never win a presidential election again.
We have Americans helping in the destruction.
Daily Wire reported on one sprawling settlement north of Houston by a Texas land developer. It houses thousands of illegal immigrants who have settled in Texas. It's 400 miles into the interior of the United States. The developer has given away more than 60 square miles of Texas to illegal aliens.
COLONY RIDGE IS COLONIA
The town known as Colonia to the settlers is in Liberty County and is part of the Colony Ridge development.
Daily Wire says its population is as much as 75,000 and growing rapidly. The houses – that are minutes away from designer homes and pools  – fly foreign flags among "half-built homes, dilapidated trailers, and heaps of trash." Stray dogs wander the streets.
The development already takes up 60 square miles, more than some cities. Manhattan is only a little over 22 square miles.
We only know about this because of Todd Bensman of The Center for Immigration Studies.
Welcome to the largest illegal immigrant no-go sanctuary city in America. Colony Ridge in Liberty County Texas from an airplane today. (Todd Bensman) pic.twitter.com/oinQodGdMV

— Twisted Eagle (@twisted_eagle) June 14, 2023
It's built on a floodplain and shouldn't be there.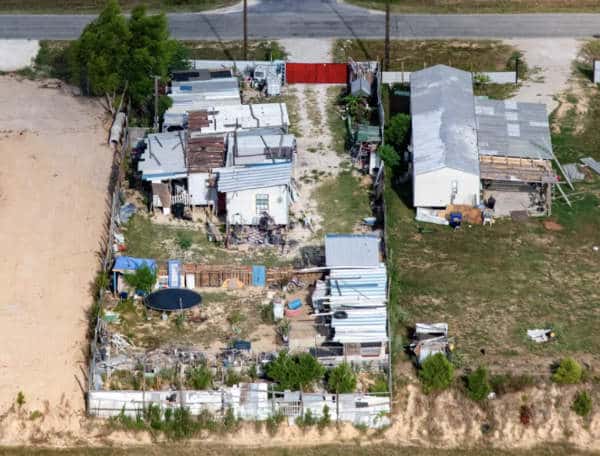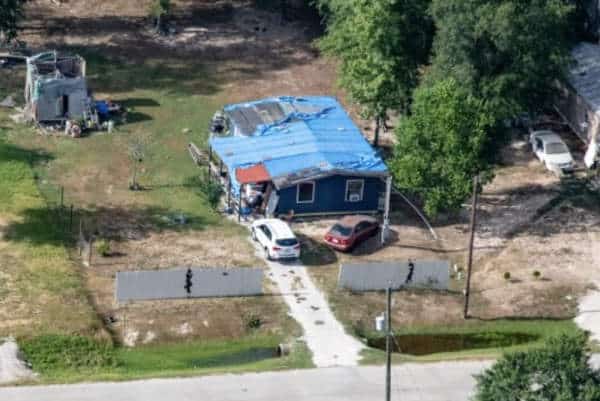 Via Daily Wire:
Colony Ridge, owned and operated by developer William "Trey" Harris, is rapidly expanding, at least in part due to a financing arrangement that makes it possible for illegal aliens to buy land deep in the heart of Texas. While traditional financing methods require credit ratings and proof of income, Todd Bensman, a National Security Fellow at the Center for Immigration Studies, told The Daily Wire that buyers at Colony Ridge are able to circumvent the usual requirements, even dodging the need to provide a social security number.
"Because with a traditional bank loan, you need to be able to show that you have a credit rating and proof of income," Bensman said, adding that buyers at Colony Ridge are asked to pay as little as a "few hundred dollars" as a down payment. "The loan is directly from the developer, bypassing traditional mortgages," and while the buyer might pay high-interest rates near 15%, it's a great deal for someone with no other option to buy land in the country, Bensman explained.
Foreigners can reach out to buy land through WhatsApp. It's as simple as that to invade Texas. Texas is now a majority-minority state. For all intents and purposes, it is blue, and we live in a one-party country. We are moments away.
As we wrote in May, the cartels are already there. A mass murderer came from Colonia.
The Mass Killer of Colonia
The illegal alien mass killer and the five murdered people lived in Colonia, Texas. Francisco Oropesa, who murdered five innocent Honduran Nationals, was a follower of the Santa Muerte Death Cult, a Satanic version of a religion followed by drug dealers and murderers. One overriding belief of the distorted religion is that there is no judgment of sins or crimes. The death cult has spread throughout the United States thanks to settlements like Colonia. The murderer and the murdered people lived in the largest "Colonia" in the United States.
Todd Bensman reported on that as well.
If we have any hope at all, it's 2024. Vote freedom.
Some Reject Freedom
Judging from a most recent poll by RealClearPolitics opinion research, nearly half of Democrats will vote against freedom.
The stunning numbers among Democrats in RCOR's (Real Clear Opinion Research) new poll on free speech and censorship:
47% of Democrats say free speech should be legal "only under certain circumstances."
34% of Dems say Americans "have too much freedom."
75% of Democrats say the government is responsible for censoring "hateful" social media posts.
Only 31% strongly agree with the statement, "I disapprove of what you say, but I will defend to the death your right to say it."
Thank the politicians for destroying the United States. You won't like what we are to become.
Biden and Mayorkas couldn't be more obvious:
Eagle Pass, Texas just moments ago:

Under Biden's direction, Customs and Border Protection cuts Texas DPS barbwire barrier keeping out the hordes of illegals.

Invasion by design. pic.twitter.com/XDBWSRFEsE

— Charlie Kirk (@charliekirk11) September 25, 2023