Former Labor Secretary and racist Tom Perez has won the position of DNC Chair. He is Barack Obama's choice and his doppelgänger. As a liar, racialist, manipulator and Marxist, he is the right choice for...
Food Insecurity in America by Temerity Forthright The third largest food producer in the world still struggles with feeding its own people. This country ranks third in terms of food production despite having a much smaller...
The organized and aggressive efforts by the hard-left, the Progressives, to maintain Barack Obama's "legacy" and destroy Donald Trump is no more evident than in the raucous and chaotic town halls being held throughout...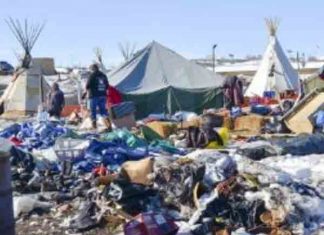 All they needed to remove the 100 or so protesters at Standing Rock are some bulldozers, riot police and military humvees. It's going to take a lot more to clean up the mess they...
The CIA gave the George Tenet counter-terrorism medal to a Saudi Arabian Crown Prince in early February. This is not satire. We're not kidding. CIA Director Mike Pompeo gave the award to Saudi Crown Prince Mohammed...