Check out this interesting video. Four refugees from North Korea eat American BBQ for the first time in the video while discussing life in North Korea. They risked their lives to escape to South...
There Will Be No Explanations Barack Obama said Tuesday he doesn't know if Wikileaks was involved in the DNC email leak and doesn't pay any attention to it. For that reason he doeesn't see the contradiction in...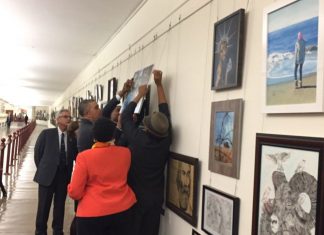 The architect of the Capitol has ordered the police as pigs painting taken down before the Inauguration. Earlier today, a Blue Lives Matter flag was hung over the painting. Police as Pigs Painting Ordered Removed The Architect...
Barack Obama has given us a great deal as he gets ready to depart, like worsening relations with Russia and spreading rumors about Donald Trump being a close friend of Vlad Putin's. Even this...
Steve Harvey Finds Trump "Sincere" Steve Harvey was invited to Trump Tower this past week to discuss helping inner city youth. About the visit, he told the media, "It is the crux of it all. He introduced me...