Donald Trump will put forth a replacement plan for Obamacare that will give healthcare to everyone. At least that is what he suggested Sunday. Donald Trump told Scott Pelley this past weekend that he wants...
Update: 8:00 pm ET: 33 Democrats want to damage our democracy and are refusing to go to the inauguration, up from 28. The list at the end has been updated to reflect the increased...
John Lewis Calls Donald Trump Illegitimate Donald Trump has responded to John Lewis's comments yesterday. He is trying to delegitimize Donald Trump's election. Trump used one fact against Rep. Lewis, his district is one of...
Sworn In on a Giant Quran Minnesota-Somali Muslim Legislator, Ilhan Omar was elected to be a State Representative for a district that includes "Little Mogadishu" November 8, 2016. She took her oath on a...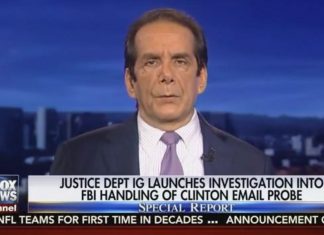 Charles Krauthammer said Thursday, Democrats on their way out are trying to leave as many land mines to cast doubt on Trump's win. He made his comments on Fox News's Special Report in response...