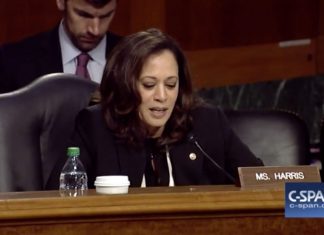 You can take the leftist out of Sacramento, but you can't take the Sacramento out of the leftist. California's former AG, Kamala Harris, who has been described as the next Barack Obama, interviewed the...
Michael Savage is a right-wing talk show host who interviewed the 4 Chan blogger who claims he made up the salacious stories about Trump and fed them to CTR (Hillary's PAC Correct the Record)...
In an unprecedented move, the petty, lying, opportunist Senator Cory Booker testified against his colleague Jeff Sessions with an ad hominem attack. He suggested he was a racist, presenting zero evidence. Cory's History as a Major...
A federal judge says San Francisco cannot be held liable for the death of Kate Steinle who authorities say was shot and killed by a criminal illegal immigrant who had been deported repeatedly. He was protected...
Project Veritas has released a bombshell undercover video showing leftists planning potential terror attacks at some of the Inaugural balls. The first video in a series exposes leftists planning potential terror attacks at the Inauguration. The Fascist...