President Trump was right again. Instead of saying "what happened last night", he should have said, "what will happen any day now" during his rally on Saturday night. Stockholm is experiencing riots tonight in...
This happened on Times Square yesterday. Check out the Muslim call to prayer at the end. Muslims and Muslim sympathizers held an anti-Trump rally which included Chelsea Clinton and Hamas agent Linda Sarsour. Thank you...
The New York Times published an article on Wednesday in which Bill Maher proudly boasts of his role in taking down Milo Yiannopoulos. Milo appeared on Maher's show last week and suffered through vulgar attacks by...
A dozen workers at a Catoosa restaurant are without a job after getting fired for skipping work as a show of support for "A Day Without Immigrants." The way he did it might stun...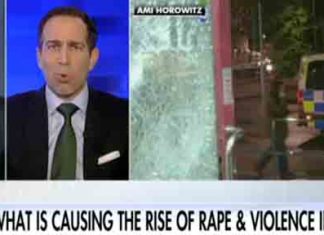 Last night Donald Trump referenced Tucker Carlson's report on Sweden and the negative impact of mass migration in that country. Sweden took in 200,000 refugees, the most per capita of any European nation. The result...